Abstract:
In any organization, training and development has two perspectives:
The Employer's Perspective – Improve knowledge and skills to match changes in technology, industry and demand. To improve productivity, motivation and efficiency to increase profits.
The Employee's Perspective – There are three main aims of training for the employee: (i) Improve knowledge, (ii) increase skill and (iii) increase worth and opportunities for growth and income.
However, from both perspectives, blind spots exist that prevent organizations from achieving these goals. This article discusses some of the ways these blind spots can be eliminated.
---
Investing in training and not knowing its return on the business is what we call – RUNNING A TRAINING ORGANIZATION BLINDFOLDED!
In 2020, U.S. corporations spent $82 billion on training and education. Most companies are unable to show employee learning investment directly having a positive impact on their financial performance or changes in individual and organizational behavior. In other words, most companies are not getting the ROI on their investment in training and education.
L&D Spending in billions US. dollars (2012-2020)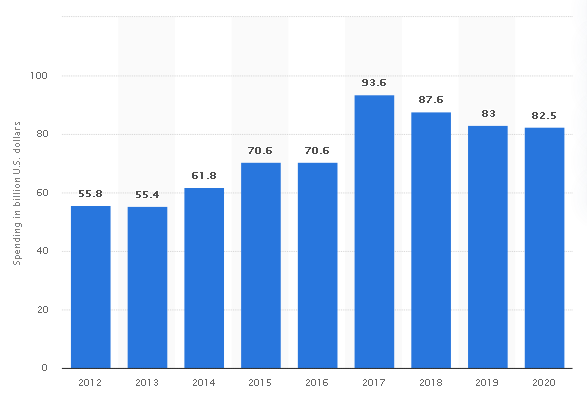 We feel there is a fundamental problem in how many corporations are spending their training dollars. In this article, we offer some recommendations on how to open your eyes to this problem!
To truly understand the value of what effective training adds to your organization, let us first define what constitutes ineffective training. Ineffective training is training where there are many unaddressed 'BLIND SPOTS'. Here are some of the common consequences of blind spots that affect many organizations today:
Weakened employee performance and lower employee retention rates
Unsafe work environments and consequential legal, financial and regulatory exposures
Employees' lack of knowledge regarding industry trends and policies
Financial drain, wasted human resources and potential
The problem is that – most training organizations don't have a mechanism in place to measure what their output is worth to the company's bottom line – in REAL terms. So they produce training programs and materials with no measurement metrics in place that reflect their real learning effectiveness, real business impact or real KPI's.
And most importantly, many training organizations are following the same old training processes and materials that fail to take into consideration today's learners' characteristics and learning habits. Today's learners reject boring lectures, heavily text-based PowerPoints or certificates that are based simply on memorizing information.
Unfortunately, in many corporate classrooms "Information dump followed by a quick quiz" is still the normal method of teaching…it does not lead to understanding, it simply leads to getting a passing grade for an employee to meet the requirements. Most importantly, information dumps do not allow the student to apply their newly acquired knowledge in real life situations. This type of training frequently becomes a blind spot, quickly disappearing from the learners' mind soon after the certificate of completion is awarded.
Let's take a look at four common blind spots that are prevalent in training organizations around the world. Each blind spot has accompanying questions you can use as a checklist to evaluate your own training programs.
Do you have any of the following blind spots at your organization?
Blind spot 1: How much does your training really cost?
Businesses tend to have real difficulty calculating the end cost of implementing necessary learning and development programs. How much is your cost per learner compared to industry average for your size of company and similar business objectives?
It's important to note that cost is not just dollars – simply adding up the expenses beforehand (admin, equipment, facilities, coffee, donuts etc) – Have you accounted for the indirect costs that training incurs in your organization?
Are you calculating the costs of training hours spent away from work? (These are the biggest costs of training that are often overlooked.)
Blind spot 2: Do you know the return on Training Investment (ROTI)?
Organizations shouldn't look at training as simply another cost – it's an investment. High quality training will allow organizations to see increases in revenue and a reduction in operating costs. Have you calculated what we call your Return On Training Investment – ROTI?
Are you including the benefits of any economic improvements to your company's operations that flow from your training, such as increased profit or cost savings (or lack thereof)?
Have you identified the correct Training KPIs? (Key performance indicators that are specific to learning, help you measure a learner's progress toward a goal or objective, which leads to accurate ROTI measurement.)
Are you tracking your ROTI at the moment with the correct tools (Kirkpatrick / Phillips / CIPP)?
Blind spot 3: How engaged are your learners?
Are you incorporating "Active Learning" vs "Passive learning" strategies in your courses? (Active learning requires students to participate in class, as opposed to sitting and listening quietly.)
Are you designing your courses to keep the learner engaged in activities throughout the courses?
Does your design incorporate effective evaluation strategies, and provide helpful feedback?
Are your instructors trained to keep the learners engaged in live classroom activities? In a collaborative learning environment are the instructors leading dynamic discussions?
In an age of immersive audio-visual experience in every medium, are your distant learning programs offering an immersive learning experience to today's new generation of learners?
Do you currently use an LMS that tracks learner engagement, assessments and learner behavior?
Blindspot 4: How effective is your training?
Training Effectiveness is measured by administering assessments – do you test a) pre-training, b) mid-training, c) post-training, and d) get feedback from managers and learners? How much has the training boosted employee performance and/or behavior?
Have you started tracking your training success metrics by enabling your LMS to track student activities even when they're working remotely?
At the time you are planning, designing and setting the learning objectives, are you taking into consideration what kind of business impact you want the training to yield? (Planning for these outcomes in advance, will help you to deliver training that produces measurable results.)
Conclusion
Not all L&D/Training organizations are sufficiently equipped to overcome all the blind spots mentioned above. Sometimes it is necessary to identify limitations (budget, talent, time, policy) and work with external resources to make training meaningful and effective.
---
Co-Authored By: Kushal Basu. Kushal is a Mechanical Engineer and a professional film maker with many years of business and teaching experience across a wide range of industries and leadership roles. He has run his own businesses Teledec International since 1987 and sat on a number of both local and international boards, including ATD, Association of Training and Development, Chicago chapter.
Co-Authored By: Evan Escauriza. Evan has spent over a decade in the education, training and eLearning industries. At Teledec, he is responsible for marketing and enterprise sales, communicating the benefits of storytelling, learner engagement and output measurement to organizations.